Eat Inn Diner
Simon, Ali and the team took over the EAT INN DINER back in 2009 and since then the team have re-decorated, refurbished and thoroughly updated the business.
We have concentrated on sourcing top quality local ingredients from, wherever possible, local suppliers. Proctors Suffolk sausages, local Free Range eggs, prime Suffolk Bacon, all help to make up the perfect Breakfast, of which, our "Mega" is legendary and not for the faint-hearted!!
If lunch is what you require check out our menu on our website. Many recipes are home-made on the premises. Or come in and see what's new on the specials boards every day. In addition, we've got door step sandwiches, freshly baked baguettes, jacket potatoes, and toasted Panini's with mouth-watering fillings.
Wash them down with our fresh ground coffee, a flavoured latte, a caramel hot chocolate, or just a good old mug of tea!
All of which can be taken away if you prefer.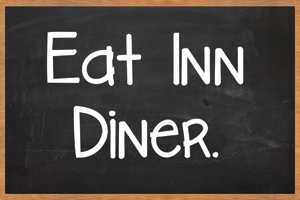 Address: 6 Grange Way, Whitehall Industrial estate, Colchester. CO2 8HG
Telephone: 01206 7937770